I'm linking up with
Katie
for my first Saturday Morning Scene!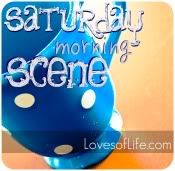 When I woke up this morning, I opened my eyes and saw this:
She was that close to my face, too.
If the doctor's prediction was right and I really am allergic to the little cuddlebug?? ...And she's sleeping that close to my face?! I sort of see why I'm having so many health problems right now. Only time (and my Scratch Test) will tell.
But who could resist that face?!
Happy Saturday!